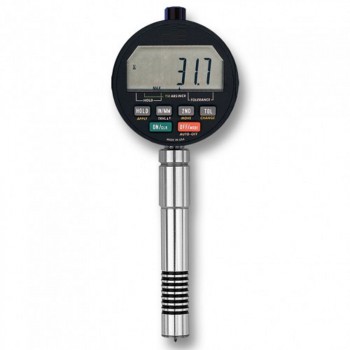 Click on an image for a larger image
RX-DD Digital Durometer

Available Scales:
A, B, C, D, DO, M, O, OO, OOO (Asker, ISO, DIN & JIS Scales also available, inquire)
The new Check-Line RX-DD is a precision Digital Durometer ideal for laboratory use. It features a large direct drive LCD display, RS232 data ports for computer compatibility, a locking feature to prevent accidental erasure of tolerances, automatic shutoff and low battery warning. Accessories such as MTI and SPC type printers, audio attachments and software are optional available.
Type M Durometers require test stand RX-OS-3 per ASTM D2240.
All RX-DD models are supplied with a NIST traceable calibration certificate.
Includes NIST-Traceable Calibration Certificate
High and Low buttons for setting tolerance limits
Solid state circuitry with LCD display
One year warranty
Holds Peak reading until reset
0.1 Unit Resolution
Minimum Sample Thickness -Type A = 6 mm (1/4") -Type M = 1.25 mm (0.050")
Optional Removable Stainless Steel Barrel for Medical and Food Applications
Conforms to ASTM D-2240
Supplied in custom fit carrying case
Category Durometer Test Stand
Test Stands for our durometers allow precise and repeatable measurements any time. They eliminate operator errors and therefore upgrade your accuracy.
More details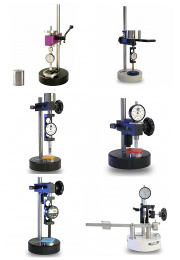 RX-DIN-FA ASTM to DIN 53505 Adapter for RX-series durometers
Special attachement gives you two gauges in one model.
With attached, the gauge confirms to DIN 55305 norm.
When taken off, the gauge is conform ASTM D2240.
More details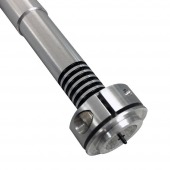 EMS4 Remote Readout Data Collection Application
Intuitive Android App
Simultaneous Connection of Up to Four Devices (Durometer, Indicator, Caliper, Micrometer)
Mux Box
7" Color Tablet
More details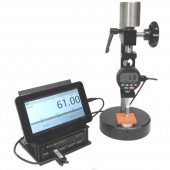 Type
Indentor Shape
Force
A
Flat cone point, 35º Included Angle
Soft rubber, plastics, and elastomers, printer's rolls.
822 Gr
B
Sharp cone point, 30º Included Angle
Harder elastomers and plastics. Paper and fibrous materials, Use above 93 Duro A.
822 Gr
C
Flat cone point, 35º Included Angle
Medium hard elastomers and plastics. Also useful to avoid surface marks.
4536 Gr
D
Sharp cone point, 30º Included Angle
Hard rubber and plastics such as thermo plastics, flooring and bowling balls.
4536 Gr
DO
3/32" Spherical
Dense granular material, textile windings.
4536 Gr
O
3/32" Spherical
Very soft elastomers, textile windings, soft granular materials. Use below 20 Duro A.
822 Gr
OO
3/32" Spherical
Light foams, sponge rubber gels, animal tissue.
113 Gr
OOO
1/2" Spherical
Ultra soft gels and sponge rubber.
113 Gr
M
Sharp cone point, 30º Included Angle
Materials as thin as .050"
-

Slim Probe Durometers

We offer custom slim probe versions of most durometer models and types. The slim probe attachment can be modified to fit your specific needs or applications.
The RX-DD is supplied as a complete kit including
RX-DD durometer
Calibration Certificate
Instruction manual
in a foam-fitted metal carrying case.
Dimensions:
2.25" x 6.125"
Weight, net:
202 grams
Power Supply:
(2) 3V CR-2450 batteries
AC Adapter optional
Resolution:
0.1 Units
Warranty:
1 year
Product name
Price
Quantity
Product name
Price
Quantity
RX-G13-0055 - USB Data Output Cable (Transfers data via a Wedge or Data Collection program)
All mentioned prices are excluding VAT & excluding shipment costs.
Availability : Available , preorder 1-2 weeks , special order, request