The versatile Motorized Cap Torque Testing System with 6 measurement ranges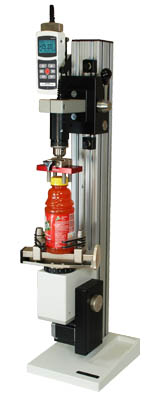 The CAP-TSTM Motorized Cap Torque Measurement System is an excellent testing system for open and closure torque measurements on caps, lids, valves and much more.
Very accurate and repeatable measurements are ensured by a motorized clockwise and counterclockwise rotation, while its modular design with different kinds of gripping fixtures offers a wide choice between different configurations.
Engaging and disengaging samples is quick and easy thanks to a lever operated slider with travel stops.
Full PC control, programmable angle limits, programmable cycling, auto return, password protection and other features are also part of this Motorized Cap Torque Testing System's capabilities.
This stand is delivered with a torque loading plate with tapped holes for grip and custom fixture mounting and a resettable angle indicator.
Max. Closure diameter: 5.1 - 89 mm
Max. Container diameter: 0 - 122 mm
Max. Container height: 0 - 225 mm
* Optional brackets can hold larger containers. Please contact us for further information.