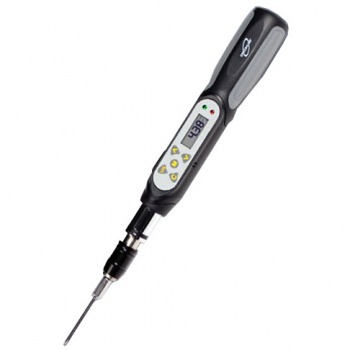 Click on an image for a larger image
TSD Torque Screwdriver
The new TSD manual torque measuring screwdriver is designed for accurate measurement of application and removal torque of screws and fasteners. An LCD display measures bi-directional torque in real-time or peak modes.

3 models
TSD-50: Measuring Range: 0.45 - 4.5 lb-in
TSD-200: Measuring Range: 1,70 - 17,70 lb-in
TSD-400: Measuring Range: 3.5 - 35 lb-in

The TSD has an accuracy of CW +/- 2% & CCW +/- 3% of indicated reading and has 9 programmable setpoints that provide both an audible beep and green/red LED indicator for precision torque application.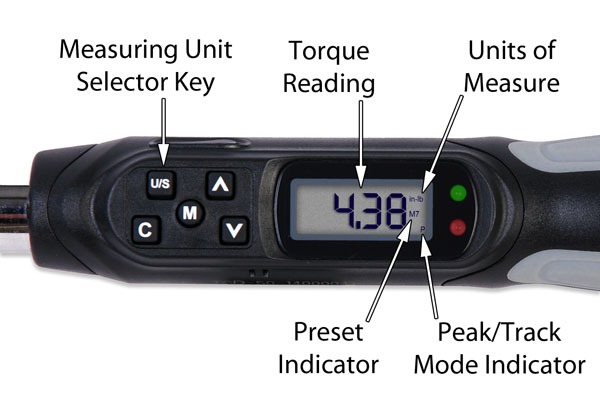 Clockwise & Counter Clockwise Torque Measurement
Real time & Peak Torque Measurement
9 Programmable Target Torque Setpoints
Model
Ranges
Resolution
TSD-50
0,45 - 45 lb-in
5 - 50 cN-M
0,5 - 5 kg-cm
0.01 lb-in
0.1 cN-M
0.01 kg-cm
TSD-200
1,70 - 17,70 lb-in
20 - 200 cN-M
2 - 20 kg-cm
0,01 lb-in
0,1 cN-M
0,01 kg-cm
TSD-400
3,5 - 35 lb-in
40 - 400 cN-M
4 - 40 kg-cm
0.01 lb-in
0.1 cN-M
0.01 kg-cm
DID-4 Digital Torque Screwdriver
Peak, Real Time and Peak Down measuring mode (selectable)
Both CW and CCW ratchett and fixed operation
Runs on internal NiCad batteries (for 8 hours) Auto shut-off after 10 min. of non-use
More details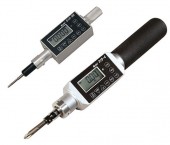 The TSD is supplied as a complete kit in hard plastic case, including:
torque screw driver
small philips bit
instruction manual
factory calibration certificate
1 AAA battery
Accuracy
CW: +/- 2% of indicated reading +/- 1 LSD (between 20 - 100% of capacity)
CCW: +/- 3% of indicated reading +/- 1 LSD (between 20 - 100% of capacity)
Display
4 digit LCD
GO/NO GO testing
9 Programmable setpoints with both audible beep and Green/Red LED indicator
Power Supply
One (1) AAA Battery (included)
Auto Power Save
Automatic switch off after 5 minutes of non-use
Working Time
12 hours continuous use
Bit Size
1/4 Inch - 6.35 mm Hex
Weight
430g
Warranty
1 Year
Product name
Price
Quantity
All mentioned prices are excluding VAT & excluding shipment costs.
Availability : Available , preorder 1-2 weeks , special order, request