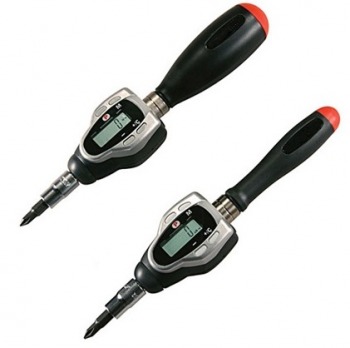 Click on an image for a larger image
GLK Digital Torque Screwdriver
This practigal and light Digital Torque Screwdriver measures in three modes: peak, peak with auto zero and real time. The number of fasteners tightened are counted according to the high and low limits set in the pass/fail mode.
3 Models are available according to measurement ranges as follows:
GLK060E: range 0,6 - 60,0 N-cm
GLK250E: range 2,5 - 250,0 N-cm
GLK500E: range 5,0 - 500,0 N-cm
The user gets alerted with a blinking light and beep tone when 90% of the preset torque value. The alert becomes continuous when 100 % is reached.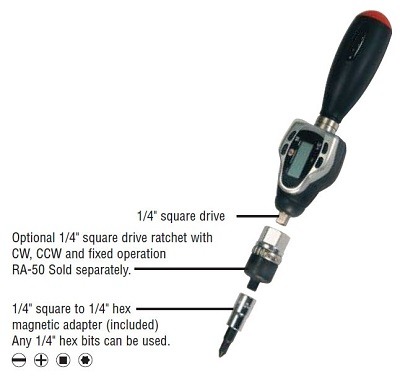 Selectable units: ozf-in, lbf-in, N-cm
High accuracy ±1.5% F.S. both CW and CCW directions
Peak, Peak with auto zero reset and Real Time modes
ISO-6789 Compliant
Pass/Fail mode counts fasteners tightened within programmed High/Low limits, using LED and audible alerts
Five programmable torque presets ideal for frequent operations
The GLK is delivered in a set including:
Screwdriver with 1/4" square drive,
1/4" square drive to 1/4" hex magnetic adapter,
No. 1 Phillips tip,
Battery,
Carrying case
Calibration certificate traceable to NIST
Manual
| | |
| --- | --- |
| Accuracy: | ± 1.5% F.S. both CW and CCW directions |
| Drive Size: | 1/4 square |
| Measuring units: | N-cm, lbf-in, ozf-in |
| Data Memory: | 5 (storable Target torque values), 1 (Pass/Fail Mode) |
| Auto Shut OFF: | Power automatically turns off after 2 minutes of non-use |
| Power: | Lithium coin battery CR2354 |
| Battery Life: | Approx. 2 months (100 usages per day) |
| Guarantee: | 1 year |
| Model | N-cm | lbf-in | ozf-in |
| --- | --- | --- | --- |
| GLK060E | 0.60 - 60.00 | 0.05 - 5.31 | 0.9 - 85.0 |
| GLK250E | 2.5 - 250.0 | 0.22 - 22.13 | 3.5 - 354.0 |
| GLK250E | 5.0 - 500.0 | 0.44 - 44.25 | 7.1 - 708.0 |
Product name
Price
Quantity
All mentioned prices are excluding VAT & excluding shipment costs.
Availability : Available , preorder 1-2 weeks , special order, request