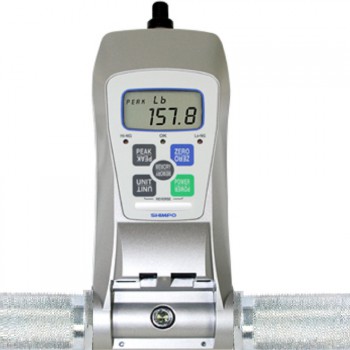 Click on an image for a larger image
FGV-HXY High Capacity Digital Force Gauge
FGE-HX
Standard Gauge
FGV-HX
Force Gauge with RS232 & Analog Output
3 Ranges up to 1000lbs
Measures Push / Pull Force
The microprocessor-controlled, digital FGE-HX and FGV-HX offer the same user-friendly features of our popular FGE/FGV series, but in an extremely heavy-duty case, allowing the gauges to handle larger capacities from 0 to 1000 pounds.
Two knurled steel handles are provided for hand operation and a hanger is included which enables each gauge to be used as a scale.
Accuracy ±0.2%
Display "real-time" or "peak" force
150/200% overload protection (depends of model)
User-selected units of Pounds, Kilograms or Newtons
Removable hanger
Measures both compression and tension forces
Display can be reversed for inverted use
Heavy-duty load sensor
Includes Traceable Calibration Certificate
1 Year Warranty
Model
Ranges
Resolution
FGE-500HX
FGV-500HX
500 lb
250 Kg
2500 N
0.1 lb
0.1 Kg
1 N
FGV-1000HX
1000 lb
500 Kg
5000 N
0.1 lb
0.1 Kg
1 N
The FGE-HX / FGV-HX is supplied as a complete kit including force gauge, AC adapter/charger, 2 handles, inch adapter and attachments (flat head, hook, chisel, notched head, cone head, extension rod) RS232 CABLE (FGV-HX Only) in a foam fitted plastic carrying case.

Cic-Force Force Gauge Calibration
Short turnaround
Exclusively in accordance with Deutscher Kalibrierdienst (DKD) working standards, class F1; calibration-no: 19026 - 07
Possibility to adjust and repair
More details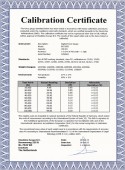 Accuracy
±0.2% full scale
Resolution
0.1 lb, 0.1 Kg, 1 N
Display
4-Digit LCD, 12mm high. Reversible by the push of a button. Minus sign for tension
Display Update
0.05, 0.1, 0.2, 0.3, 0.5, 1 sec
Sampling Rate
1000 times per second
Overload Protection
150/200 % of full scale (depends of model)
Power
Rechargeable Ni-Cad battery or AC through adapter/charger
Auto Power Shut-Off
Yes (not active if adapter/charge is in use)
Battery Life
12 hours (when fully charged)
Recharge Time
Approximately 18 hours when fully discharged
Dimensions
8.43" L x 3.23" W x 2.15" H (214 mm x 82 mm x 54.5 mm)
Weight
2 lb (900 g)
Outputs
(FGV MODEL ONLY)
RS232C & Analog Output ±1 VDC (through a 12 bit D/A converter)
Overload Output
(FGV MODEL ONLY)
One NPN OC transistor for tension, one NPN OC transistor for compression
Warranty
1 Year
Product name
Price
Quantity
Product name
Price
Quantity
All mentioned prices are excluding VAT & excluding shipment costs.
Availability : Available , preorder 1-2 weeks , special order, request