J-50-R Thickness Gauge for moving objects

8.7 mm rollers permit measurement on moving materials sush as wires, tapes, foils etc. up to a speed of 150 m / min. The rollers are grounded.
The lower roller is standard equipped with flanges. If wider material has to be measured the lower roller is available without flanges.
Measurement is done by a spring force. Opening by a lifting device (lever) and is self closing.
Note:
Should not be used for continous (online) diameter check
8.7 mm wide rollers permit measurement of moving materials, diameter 8.4 mm
Max. Line speed 150 m/min
Operating by lifting device - self closing
Rollers are grounded
2 models available with resolution 0.01 and 0.005 mm
| | | |
| --- | --- | --- |
| Model | Resolution | Roller style |
| J-50-R | 0.01 mm | Lower roller with flanges |
| J-50-RO | 0.01 mm | Lower roller no flanges |
| J-50-RS | 0.005 mm | Lower roller with flangs |
| J-50-RSO | 0.005 mm | Lower roller no flanges |
Table Stand for Thickness Gauge
Table stand for thickness gauges
Converts the handheld thickness gauges into table models
Supported models:
K50, K100, J50, J100, JA50, F1101/30, JD50, JD100, FD50, FD100
More details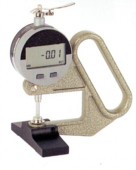 | | |
| --- | --- |
| Resolution: | 0.01 mm |
| Measuring range: | 0.01 mm - 5.00 mm |
| Depth of jaw: | 50 mm |
| Scale diameter: | 54 mm |
| Measuring pressure: | 1.0 N |
| Measurement by spring load: | Operating by lifting device - self closing |
| Weight, net: | 300g |
Product name
Price
Quantity
Product name
Price
Quantity
All mentioned prices are excluding VAT & excluding shipment costs.
Availability : Available , preorder 1-2 weeks , special order, request