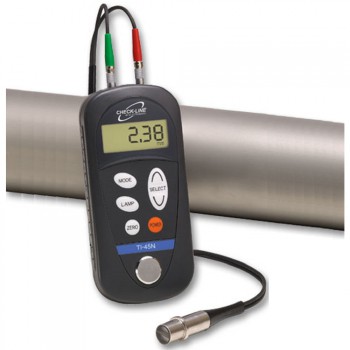 Click on an image for a larger image
TI-45N Ultrasonic Wall Thickness Gauge

Measuring Range:
1.00 - 200.0 mm
0.040 - 8.00 inches

The CHECKLINE TI-45N is designed to measure accurately the thickness of walls and the extent of corrosion of metals, ceramics, glass and the most rigid plastics from only one side!

The housing is extremely compact, lightweight and rugged. It has a back light that illuminates the LCD in poorly lit areas and it fits comfortably in the palm of our hand.

Extremely compact & lightweight
Resolution of 0.01mm (0.001")
Switch-selectable units - inches or mm
Quick display update with last reading retained on the display
Built-in calibration test plate
Display symbols alert user to poor coupling and low battery conditions
Minimum Radius for Convex Surfaces
25.4 mm (1")
Minimum Radius for Concave Surfaces
76.2 mm (3")
Minimum Headroom
76.2 mm (3")
Minimum Sample Diameter
12.7 mm (0.5")
Minimum Substrate Thickness - F
NA
Minimum Substrate Thickness - NFe
NA
Range:
1.0 - 200.0 mm (0.040 - 8.000")
Resolution:
0.01 mm (.001")
Display:
4½ - digit LCD display, 10mm high with push button illumination
Velocity Range:
1.000 – 12.000 m/sec
(3.250 – 39.000 ft/sec)
continuously adjustable
Probe:
5 MHz, 10 mm (.39") diameter without Centering Shell
Cable:
1m (39") 2-wire, long cable with quick-disconnect connectors
Minimum Pipe Size:
30mm nominal (1") steel pipe
Temp. Limits:
Ambient: -5 to 50° C (25 to 125° F)
Material: -10 to 60° C (-15 to 140° F)
Calibration Plate:
6.35mm (0.250") steel plate, built into the front of the housing
Battery Type:
Two AA batteries
Battery Life:
200 hours
Weight:
Gauge: 200 g (7 ounces)
Size:
131 x 68 x 29 mm
(5.2" x 2.7" x 1.1")
Warranty:
Gauge: 1 year
Probe: 90 days
Accessories Included:
Fitted, hard-plastic carrying case, probe shell attachment, 2 oz. bottle of coupling fluid, 1 spare battery and operating instruction guide
The TI-45N is supplied as a complete kit with the gauge and wrist strap, probe and cable assembly, 2 oz. bottle of coupling fluid, batteries and instruction manual -- all supplied in a fitted, hard plastic carrying.

Product name
Price
Quantity
All mentioned prices are excluding VAT & excluding shipment costs.
Availability : Available , preorder 1-2 weeks , special order, request