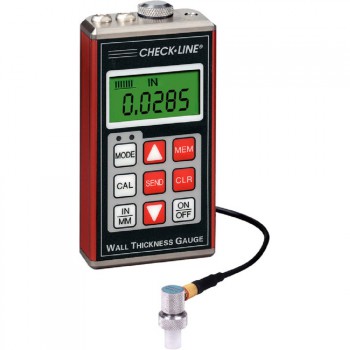 Click on an image for a larger image
TI-007DL Data Logging Precision Ultrasonic Wall Thickness Gauge


Measuring Range
0.15 - 25.4 mm
0.0060 - 1.000 inches

With the TI-007DL wall thickness gauge you can perform extremely precise and high-resolution measurements on thin-walled metal and plastics. This ultrasonic device is very suitable for use in extreme environments because of it's robust aluminium housing which is sealed for excellent protection.

The gauge has a built-in memory for 1000 data points that can be separated into 10 separate "batches". You can download the stored data to a serial printer or PC and with no additional costs a Windows compatible data transfer program is supplied.

The TI-007DL ultrasonic wall thickness gauge has a MEASURING RANGE from 0.15 to 25.4 mm (0.0060 to 1.0000 inch). It can measure thin materials and automatically remove any coatings in ECHO-TO-ECHO MODE as well as automatically switch to interface echo mode when measuring thicker materials and plastics when using a single element delay tip transducer.

A special model with a Graphite Tip probe for measurement of plastics is also available (TI-007DL-GT).

Selectable units of inch or mm
Memory for 1000 data points in up to 10 batches
Resolution of 0.001 inch (0.01 mm)
Large, backlit LCD display retains last reading
RS-232C Serial output for downloading stored data to a printer or computer
Windows compatible data transfer program supplied at no additional cost
Includes NIST Calibration Certificate
CE Certified
Optional model available with Graphite Tip for measuring plastics: TI-007DL-GT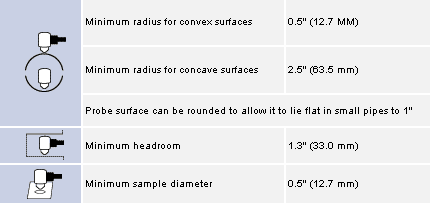 The TI-007 is supplied as a complete kit with the gauge, probe, 4 oz. bottle of coupling fluid, 2 AA batteries, NIST Calibration Certificate and Operating Instruction Manual - all in a foam-fitted carrying case.

P/N
Description
Standard / Optional
Image
X-231-0000
1/4" x 3/8"
for all metals
(Short)
Standard
X-241-0000
1/4" x 1/2"
for all metals
(Long)
Standard
X-633-0000
1/4" x 3/8"
Graphite Tip
for thin plastics
Standard on "-GT" models
X-532-0000
3/16" x 3/8"
Conical Tip
for all metals
Optional
X-533-0000
3/16" x 3/8"
Graphite Tip
for thin plastics
(Graphite Cone)
Optional
Range in Steel
0.0060-1.0000" (0.15-25.40 mm)
Resolution
.0001" (0.001 mm)
Display
4½ - Digit, 0.5" Backlit LCD
Velocity Range
2000-10.000 m/sec. (6.500-33.000 ft./sec.)
Transducer
Single element with delay tip. 10 to 22 MHz frequency range.
Probe Wearface
PEEK (Polyethlethylketone)
Cable
1.2 m (4 ft) waterproof cable with non-polarized, quick-disconnect LEMO connectors. Optional lengths up to 30 m (100 ft.)
Serial Output
RS-232C (8, N, 1, user-set baud rate)
Temp. Limits
Ambient: -30 to 50° C (-20 to 120° F)
Material: -20 to 100° C (0 to 200° F)
Battery Type
Two AA batteries
Battery Life
150 hours
Weight
300 gr
Size
64 x 114 x 32 mm
(2.5 x 4.5 x 1.25")
Accessories Included
Probe/cable assembly. 4 oz. bottle of coupling fluid, NIST Calibration Certificate, 2 AA batteries, operating instructions, hard-plastic carrying case.
Warranty
<u>Gauge</u>: 5 Years
<u>Probes</u>: 90 Days