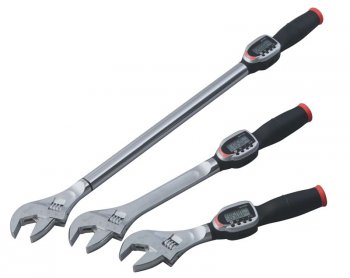 Click on an image for a larger image
GEK Digital Adjustable Torque Wrench
The specially designed forged steel jaws maintain a constant working length at any opening position of the jaw. Regardless of the hand position the unique power sensor in the handle, accurately detects and analyzes load applied to the grip.
This makes that it can be used on places where a socket wrench cannot be used.
The ergonomic grip helps keep the torque point in the center of your hand this assures greater accuracy in torque measurement.
The GEK Series Adjustable Torque Wrenches can measure in Peak mode, Peak with auto zero reset and Real time. 5 programmable torque presets stored in memory enable the user to check frequently used values. The presets alert the user with an pulsing signal at 90% and a continuous signal at 100% of the preset torque value using LED and audible indicators. Presets can be set from 10% of capacity.
3 Models available:
GEK085-W36E: range 2.0 - 85.0 N-m
GEK135-W36E: range 3.1 - 135.0 N-m
GEK200-W36E: range 5.2 - 200.0 N-m
High accuracy ±1.5% F.S. both CW and CCW directions
Selectable units, lbf-in, lbf-ft, kgf-cm, N-m
Peak, Peak with auto zero reset and Real Time modes
ISO-6789 Compliant
Adjustable Drive Size:10~36mm
Consistent working length, whether the jaws are open or closed, assures greater accuracy in measurement, measured from the bolt's rotational axis to the point where load is applied.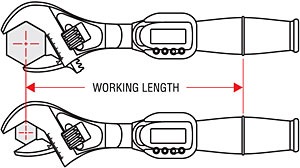 | | |
| --- | --- |
| Accuracy | ±1.5% F.S. both CW and CCW directions |
| Measuring direction | CW with display facing you, CCW with display facing away from you |
| Adjustable Drive Size | 10~36mm |
| Measuring units | Selectable lbf-in, lbf-ft, kgf-m, N-m |
| Data Memory | 5 (storable Target torque values), 1 (Pass/Fail Mode) |
| Auto Shut OFF | Power automatically turns off after 2 minutes of non-use |
| Power | Lithium coin battery CR2354 |
| Battery Life | Approx. 2 months (100 usages per day) |
| Warranty | 1 year |
GEK Adjustable Torque Wrench
Lithium coin battery, Panasonic CR2354
Calibration certificate traceable to NIST
Carrying case
Manual
| Model | lbf-in | lbf-ft | kgf-m | N-m |
| --- | --- | --- | --- | --- |
| GEK085-W36E | 19.0 - 752.0 | 1.60 - 62.70 | 0.21 - 8.66 | 2.0 - 85.0 |
| GEK135-W36E | 28 - 1195 | 2.3 - 99.5 | 0.32 - 13.76 | 3.1 - 135.0 |
| GEK200-W36E | 46 - 1770 | 3.8 - 147.4 | 0.55 - 20.40 | 5.2 - 200.0 |
Product name
Price
Quantity
All mentioned prices are excluding VAT & excluding shipment costs.
Availability : Available , preorder 1-2 weeks , special order, request