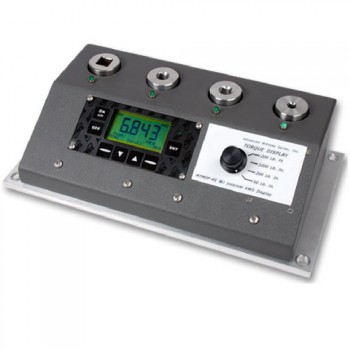 Click on an image for a larger image
MTM Multi-Range Torque Tester

The MTM Series of torque transducers are designed to provide an economical way to measure and calibrate multiple torque tools. The MTMDP models (MTMDP-2S pictured) have an integrated display for a fully integrated tester.
Historically, transducers had to be purchased individually and then connected to a display via a switch box or a group of cables. With the MTM series, this has become much easier: up to 4 transducers can be integrated in one compact housing.
There is a small footprint that allows clean, well-organized work space. This helps eliminate the endless searching for cables, adapters, and other accessories that may be needed.
Features such as independent CW and CCW calibration, multi-point linearization, metrology grade transducer shafts, and overload protection to 200% of full scale are standard. All of the above translate to a better product for you at an unbeatable price.
* MTMDP-2 coupled with an MTM-4.

Available with 2, 3 or 4 torque transducers
Selectable units of: Ft-lb, IN-lb, IN-oz, KGF-m, KGF-cm, GF-cm, CN-m, N-m
Small footprint of the MTM allows for a clean, well-organized work space
200% Overload protection
LED Indicator Shows Active Transducer
External transducers can be connected with cable input
Includes NIST Traceable calibration certificate with data for each transducer
Replaceable shaft design. If one shaft is damaged, replace that shaft, not the entire unit.
Hi-Lo Limits for Go-NoGo testing of tools
Torque ranges
Model
Range
Drive
Size
Run-Down
Simulator
ITIO-10*
0.007 - 0.07 N-m
1/4"
Included
ITIO-50
0.04 -0.35 N-m
1/4"
Included
ITIO-100
0.07 - 0.70 N-m
1/4"
Included
ITI-10
0.11 - 1.1 N-m
1/4"
Included
ITI-25
0.28 - 2.8 N-m
1/4"
Included
ITI-50
0.56 - 5.6 N-m
1/4"
Included
ITI-100
1.12 - 11.2 N-m
1/4"
Included
ITI-250
2.8 - 28 N-m
3/8"
Included
ITI-500
5.6 - 56 N-m
3/8"
Included
ITI-1000
11.2 - 112 N-m
3/8"
Included
ITF-100
13.56 - 135.6 N-m
1/2"
Optional
ITF-150
20 - 200 N-m
1/2"
Optional
ITF-250
33- 330 N-m
1/2"
Optional
ITF-600
81 - 810 N-m
3/4"
Optional
ITF-750
101 - 1016 N-m
3/4
Optional
ITF-1000**
135 - 1350 N-m
1"
Optional
ITF-2000**
271- 2710 N-m
1"
Optional
ITF-3000**
406 - 4060 N-m
1 1/2"
Optional
ITF-5000**
677- 6770 N-m
1 1/2"
Optional
RDF Joint Simulators / Run Down Fixtures
Required for accurate torque measurement for power-driven torque controled tools (electric, hydraulic or pneumatic)
More details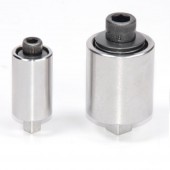 TT-3000 TT-3000 Torque Tester
Bidirectional accuracy of ±0.5% of indicated reading
More details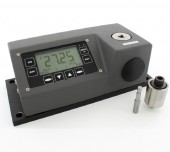 Cic-Torque Torque Instrument Calibration
Short turnaround
Easy planning of calibration
More details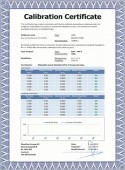 | | |
| --- | --- |
| Calibrated Range | 10-100% Full Scale, bi-directional (Standard) |
| Extended Range | 5-100% Full Scale, bi-directional (ER Option) |
| Accuracy | ±0.5% of indicated (within calibrated range) |
| Resolution | 4 Active Digits |
| Overload Protection | 200% Full Scale bi-directional |
| Operating Modes | Track, Peak, 1st Peak |
| Filtering | Selectable; 125Hz, 250Hz, 500Hz, 1000Hz, 1500Hz and 2000Hz |
| Memory | data storage of up to 999 readings |
| Data Output | RS-232 |
| Display | 62 x 62mm backlit LCD |
| Alarm Limits | Panel Mounted LED for Visual Alarm Limits |
| Power | NiMH rechargeable batteries provide 8-10 hours continuous use |
| Weight | 6-12 lbs, depends on number of transducers and configuration |
| Operating Temp | 0-50 °C (32 - 120 °F) |
| Warranty | 1 Year |
| Calibration Certificate | Includes NIST Traceable calibration certificate with data for each transducer |
| Standard Accesories | Joint Simulator for 1/4" & 3/8" drives, AC adapter/Charger |
| Optional Accessories | Joint Simulators for 1/2", 3/4" & 1" Transducers, Extended Ranger "ER" Option |
S Models Any transducer 1/4" or 3/8" Drive (up to 1000 lb-in / 112 Nm Capacity)
L Models Any transducer 1/2" Drive or larger (100 lb-ft / 135 Nm Capacity)
Product name
Price
Quantity
Product name
Price
Quantity
ER - Extended Range Option, Increased Certified Range of 5-100% (instead of 10-100%) PER TRANSDUCER
All mentioned prices are excluding VAT & excluding shipment costs.
Availability : Available , preorder 1-2 weeks , special order, request