ESH High Capacity Mechanical Force Gauge
The ESH series mechanical force gauge is designed for high capacity measurements from 200 lbs up to 500 lbs (300 kg). The rugged metal housing and heavy duty springs will withstand the harsh rugged environment of a manufacturing plant, yet the highly accurate, matched springs will ensure reliable results and retain their accuracy over long periods. The tare ring allows you to zero the gauge and compensate for measuring attachments and changes in measuring position. The real time/peak hold selector switch enables you to observe transients or capture peaks. ESH force gauges are available in pounds, kilograms and Newtons. No batteries are needed and the unit is intrinsically safe in hazardous environments.

The ESH mechanical force gauge has an accuracy of 0.5 % of the full scale. A higher accuracy of 0.3% is available on request. Please contact us for more information.


Capacities up to 3000 N / 300 kg (push and pull force)
Heavy duty metal construction
Real time and peak mode
Easy to read dial
Full set of acessories and carrying case included
No batteries needed
ISO/IEC 17025 Long-form Certificate & Test Data is optionally available
Simple , vitually maintance free
Zero Tare Ring to zero the gauge in each position
2 Year Warranty
Model
Ranges
ESH-200
200 lb (2 lb)
ESH-300
300 lb (2.5 lb)
ESH-400
400 lb (4 lb)
ESH-500
500 lb (5 lb)
ESH-100 kg
100 kg (1 kg)
ESH-200 kg
200 kg (2 kg)
ESH-300 kg
300 kg (2.5 kg)
ESH-1000 N
1000 N (10 N)
ESH-2000 N
2000 N (20 N)
ESH-3000 N
3000 N (25 N)
M10p1.5 Threaded measuring shaft (top & bottom)

Displacement at full scale capacity is 10mm
Sold in kit form complete with force gauge, hard plastic carrying case, handles, measuring attachments (hook and flat head), and extension shaft. Four installation bolts are also included for mounting the gauge to a test stand or other permanent location.

| | |
| --- | --- |
| Displacement: | 10 mm |
| Accuracy: | ± 0.5% Full Scale (0.3 % available on request) |
| Weight, net (gross): | approx. 3100 g (4000 g) |
| Warranty | 2 Years |
Cic-Force Force Gauge Calibration
Short turnaround
Exclusively in accordance with Deutscher Kalibrierdienst (DKD) working standards, class F1; calibration-no: 19026 - 07
Possibility to adjust and repair
More details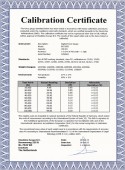 Product name
Price
Quantity