G1008 Paper & Film Grips For 1 Inch Wide Samples

These grips are designed for gripping film, paper, labels, packaging, and other thin materials for tensile and peel testing. Adjustable serrated interlocking jaws effectively grip the samples for up to 500 N (100 lb) of force.
Use the grips with a force gauge and a test stand to create a complete testing system.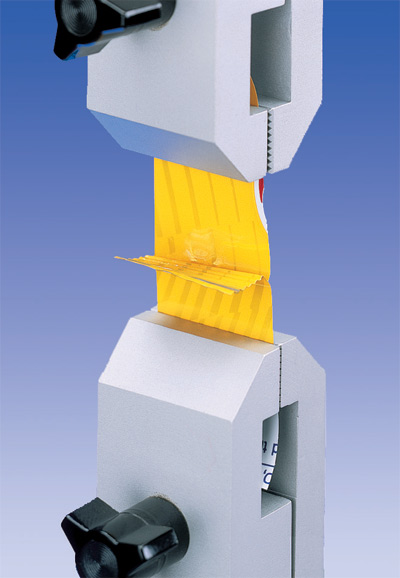 Capacity:
500 N (100 lb)
Size:
3.0 x 3.2 x 6.6 cm (B x D x H)
(1.18"W x 1.25"D x 2.6"L)
Weight:
140 grams (0.31 lb)
Thread:
#10-32 UNF
Sample size:
2.5 cm (1") wide
Model

Capacity
N (lb)
Weight
kg (lb)
A
mm
B
mm
C
mm
D
mm
G1008
500

(100)
0.14

(0.31)
25.4

(1.0")
63.5

(2.5")
40.6

(1.6")
0 - 3.8

(0 - 0.15")