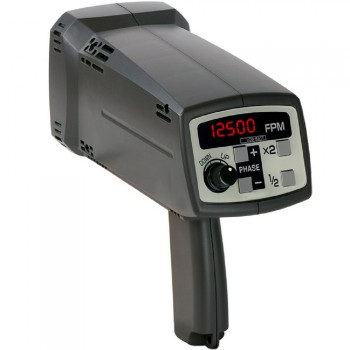 Click on an image for a larger image
DT-725 Digital Stroboscope - Battery Powered
Flash Range: 40-12.500 RPM/FPM

The Check-Line DT-725 Digital Stroboscope is a highly stable, industrial-quality measuring instrument. The DT-725 is developed for non-contact RPM measurement as well as for inspection and observation of moving parts by "freezing" or "slowing down" the action.

Optionally, a "Kit" version is available includinga carrying case and a spare flash tube at minimal additional cost.

Highly accurate speed control with drift-free operation
Instant double (2x) and half-rate (÷2) flash selection
Extremely lightweight and rugged
Easy-to-use controls with bright LED display
Phase shift adjustment permits movement of objects to desired position for convenient observation
Accepts input from sensor for external flash triggering
Without CE Certification
A) 12 - 24 V DC through a 3-wire NPN sensor (requires external power supply)
B) 12 V DC through a 2-wire proximity sensor (Leakage Current 1 mA max. Load current 8 mA min.)
C) Switch or Relay Contact
Optional a Complete Kit is offered which also includes a carrying case and spare flash tube at minimal additional cost.

Cic-Strobe Stroboscope Calibration
Easy planning of calibration
Short turnaround
Exclusively using a standard which is traceable to Britisch national standards and International standards ISO/IEC 17025
More details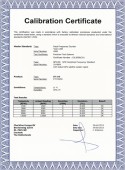 Flash Range
40.0 - 12,500 FPM
Accuracy
± 0.02% of reading
Resolution
(0.1) 40.0 - 4,999.9
(0.2) 5,000.0 - 7,999.8
(0.5) 8,000.0 - 9,999.5
(1.0) 10,000.0 - 12,500.0
Display
5-Digit LED, 8 mm high
Flash Tube
Xenon, 10 watt
Tube Life
100 million flashes
Flash Duration
10 - 15 µs
Signal Output
NPN Open Collector, 24 VDC max.
Phase Shift
0 - 359° (Internal Mode)
Operating Time
1 hour
Charging Time
15 Hours
Low Batt Indicator
LED light on display
Operating Temperature
0 to 40° C
Weight
1.25 Kg (2.75 lbs. )
Warranty
1 year
Product name
Price
Quantity
Product name
Price
Quantity
All mentioned prices are excluding VAT & excluding shipment costs.
Availability : Available , preorder 1-2 weeks , special order, request