The
X Series high performance durometer
is available in different versions:
Common Hardness scales:
Model X-A Shore A Hardness - Normal Rubber
Model X-D Shore D Hardness - Hard Rubber and plastics
Model X-C Asker C Hardness - Soft rubber and sponge
Model X-F Asker F Hardness - Urethane foam, sponge and polystyrene foam
Special Hardness Scales:
Asker JA Normal rubber & softer plastics
Asker B semi rigid rubber & plastics
Asker C2 Soft rubber & sponge Asker
Asker CS Polystyrene foam
Asker E Soft & cellular rubber
Asker Hardness testers feature portable design, ease of operation, non-destructive measurement and optional peak indicators. Supplied with 3 point NIST traceable calibration cert.
The Asker High Performance series has an accuracy of ±.75 point and is available in Type F for soft materials like sponge rubber and urethane foam.
Asker models are available in ASTM D 2240 durometer Types: Shore A Hardness, Shore D Hardness and Asker C Hardness durometer scales.
Conforms to: JIS K 6253, JIS K 7215, ASTM D 2240, ISO 7619, ISO 868, DIN 53505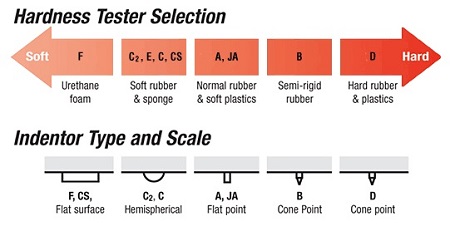 All X models are supplied with a NIST traceable calibration certificate.