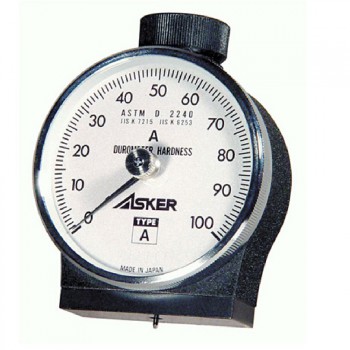 Click on an image for a larger image
X Series High Performance Durometer
The
X Series high performance durometer
is available in different versions:
Common Hardness scales:
Model X-A Shore A Hardness - Normal Rubber
Model X-D Shore D Hardness - Hard Rubber and plastics
Model X-C Asker C Hardness - Soft rubber and sponge
Model X-F Asker F Hardness - Urethane foam, sponge and polystyrene foam
Special Hardness Scales:
Asker JA Normal rubber & softer plastics
Asker B semi rigid rubber & plastics
Asker C2 Soft rubber & sponge Asker
Asker CS Polystyrene foam
Asker E Soft & cellular rubber
Asker Hardness testers feature portable design, ease of operation, non-destructive measurement and optional peak indicators. Supplied with 3 point NIST traceable calibration cert.
The Asker High Performance series has an accuracy of ±.75 point and is available in Type F for soft materials like sponge rubber and urethane foam.
Asker models are available in ASTM D 2240 durometer Types: Shore A Hardness, Shore D Hardness and Asker C Hardness durometer scales.
Conforms to: JIS K 6253, JIS K 7215, ASTM D 2240, ISO 7619, ISO 868, DIN 53505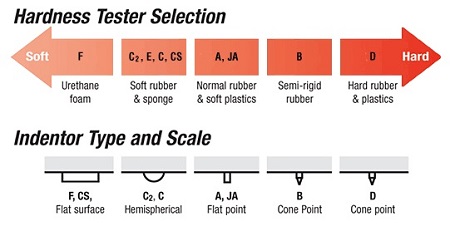 All X models are supplied with a NIST traceable calibration certificate.
As the hardness tester is pressed against the sample, the material resistance force and indentor spring load balance. The depth of the indentor is measured, which provides a measure of the material's hardness. Values are based upon a 100 point scale (accuracy ±.75 point). However, as time elapses the indicator will "creep" back so that a reading taken a few seconds after the tester makes contact with the sample will be less than the peak reading. The optional peak indicator helps to more closely monitor the difference between peak and "creep" in hardness tests.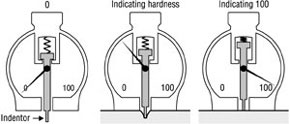 | | |
| --- | --- |
| Indication Range: | 262 degree dial scale |
| Minimum indication: | 1 point (Accuracy : ±1 point) |
| Pressure foot Dimensions: | 44×18mm Rectangular |
| Outer Dimensions; | Approx. Width 57×Depth 30×Height 76 mm |
| Mounting Thread: | M6 P1 |
| Weight: | 200 grams |
Cic-Duro Durometer Calibration
Exclusively NIST-certified testing equipment
Possibility to adjust and repair
More details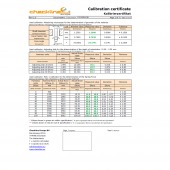 Product name
Price
Quantity
All mentioned prices are excluding VAT & excluding shipment costs.
Availability : Available , preorder 1-2 weeks , special order, request