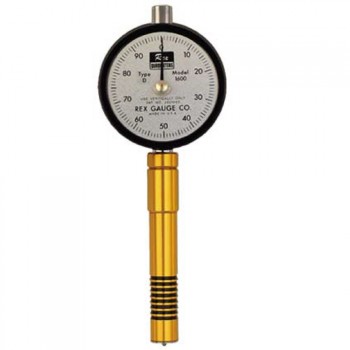 Click on an image for a larger image
RX-1600 Precision Durometer

Available Scales: A, B, CF, D, DO, M, O, OO, OOO, OOO-S, RR (Asker, ISO, DIN & JIS Scales also available, inquire)

The Checkline RX-1600 Durometer is the standard model for good reason. The gauge features a full-sized dial face for readability to within 1/2 point. The RX-1600 offers the maximum accuracy available in a dial model gauge at a minimum cost.

Type M Durometers require test stand RX-OS-3 per ASTM D2240.

All RX-1600 models are supplied with a NIST traceable calibration certificate.

Includes NIST-Traceable Calibration Certificate
One year warranty
Full 360 degree sweep
Optional Removable Stainless Steel Barrel for Medical and Food Applications
Minimum Sample Thickness -Type A = 6 mm (1/4") -Type M = 1.25 mm (0.050")
Conforms to ASTM D-2240
Category Durometer Test Stand
Test Stands for our durometers allow precise and repeatable measurements any time. They eliminate operator errors and therefore upgrade your accuracy.
More details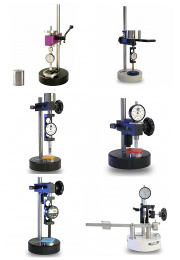 RX-DIN-FA ASTM to DIN 53505 Adapter for RX-series durometers
Special attachement gives you two gauges in one model.
With attached, the gauge confirms to DIN 55305 norm.
When taken off, the gauge is conform ASTM D2240.
More details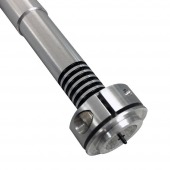 Type
Indentor Shape
Force
A
Flat cone point, 35º Included Angle
Soft rubber, plastics, and elastomers, printer's rolls.
822 Gr
B
Sharp cone point, 30º Included Angle
Harder elastomers and plastics. Paper and fibrous materials, Use above 93 Duro A.
822 Gr
C
Flat cone point, 35º Included Angle
Medium hard elastomers and plastics. Also useful to avoid surface marks.
4536 Gr
D
Sharp cone point, 30º Included Angle
Hard rubber and plastics such as thermo plastics, flooring and bowling balls.
4536 Gr
DO
3/32" Spherical
Dense granular material, textile windings.
4536 Gr
O
3/32" Spherical
Very soft elastomers, textile windings, soft granular materials. Use below 20 Duro A.
822 Gr
OO
3/32" Spherical
Light foams, sponge rubber gels, animal tissue.
113 Gr
OOO
1/2" Spherical
Ultra soft gels and sponge rubber.
113 Gr
M
Sharp cone point, 30º Included Angle
Materials as thin as .050"
-
Measuring Range
0 - 100 units
Accuracy*
±1 durometer unit (A,B,C,D,E,O,DO)
±2 durometer units (OO,OOO)<BR>±4 durometer units (M)
Dimensions
2.25" x 6.125"H
Weight
6 oz.
* Note
per ASTM D 2240-05, Sect 9.3: It is accepted that durometer readings below 20 or above 90 are not considered reliable. It is suggested that readings in these ranges be omitted.
Product name
Price
Quantity
Product name
Price
Quantity
All mentioned prices are excluding VAT & excluding shipment costs.
Availability : Available , preorder 1-2 weeks , special order, request