HPSA-R For Nip / Rubber rollers and Cylindrical materials

3 Models:
HPSA-R20 - roller diameters up to 40mm
HPSA-R35 - roller diameters up to 70mm
HPSA-R55 - roller diameters up to 110mm

For cots, pressure rollers and many other rubber coated rollers, etc. The correct Shore A hardness of the cots is a critical factor to get the desired yarn structure and quality. As cots are abrasive, the hardness should be checked from time to time as they age.
Operation is as easy as pressing the spring-loaded knurled aluminum shell down to the red line.
Standard Memory Pointer to capture peak measurement.
Constant-pressure indicating system assures uniform test pressure eliminating false readings due to differences between operators.
Supplied in a foam-fitted carrying case.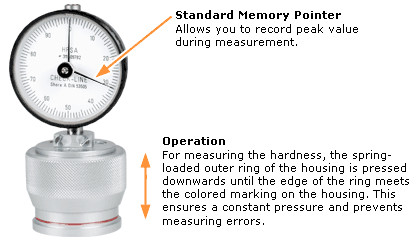 Measuring Suggestions
| | |
| --- | --- |
| 1. | Whenever possible, a Durometer measurement should be taken at least 12 mm (approx. 0.500") in from the edge of a sample, as the hardness characteristic of any sample tends to change at the edges. |
| 2. | Whenever possible, the thickness of a sample should exceed 6 mm (approx. 0.250"). If the sample is thinner then this, then the sample can be backed with a sample of the same material to increase the thickness. |
| 3. | Test Coupons or test blocks (rubber or plastic) should not be used for calibration verification. As all samples are subject to characteristic changes over time along with temperature and lighting conditions, the rated Shore value when supplied as new can and will vary with age. Proper calibration verification requires independent confirmation of the internal spring forces along with the verification of the pin displacement vs. the indicated value on the scale. |
PTS-HP Durometer Test Stand
Mechancal Lever-operated Test Stand for use when precise positioning is required on the test sample (i.e. o-ring, etc.)
Operation is as simple as rotating lever until shell on durometer reaches red line.
Constant-pressure outer shell system guarantees consistent test force
3 year warranty
More details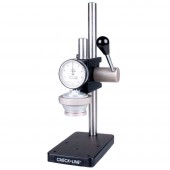 Cic-Duro Durometer Calibration
Exclusively NIST-certified testing equipment
Possibility to adjust and repair
More details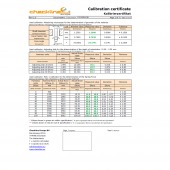 The HP series durometer is supplied as a complete kit with:
Durometer
User Manual
Foam-fitted carrying case.
A calibration certificate is optional.
Work Face Radius:
HPSA-R20 - 20mm
HPSA-R35 - 35mm
HPSA-R55 - 55mm
Indenter:
Cone 35°, 1,3 mm Ø
Typical applications:
Hardness of elastomers and rubber etc.
Depth of indentation:
0 - 2,5 mm
Test pressure:
approx. 12,5 N
Measuring spring force:
0,55 - 8,065 N
Display range:
0 - 100 Scale
Scale diameter:
56 mm
Working face:
16 mm Ø = 2 cm²
Weight, net (gross):
approx. 300 g (500 g)
Dimensions:
50 x 50 x 110 mm (L x W x H)
Warranty:
1 year
Product name
Price
Quantity
All mentioned prices are excluding VAT & excluding shipment costs.
Availability : Available , preorder 1-2 weeks , special order, request