AD-300 Precision Shore Durometer

Easily the best available Hardness Tester to determine indentation resistance (shore) of vulcanized or thermoplastic rubbers, elastomeric or soft plastic materials and silicon products.

The AD-300 durometer fully meets the requirements of different international standards, including:

- ISO 868 (A, D)
- DIN ISO 7619-1, ISO 7619-1 (A, AO, D)
- ASTM D 2240 (A, D, C, B, DO, O).

This new AD-300 durometer series takes the built quality of general available durometers to the next level.
The internal friction, that is common in most durometers, is reduced to an absolute minimum.
Together with the ergonomic enlarged foot this enables you to take highly accurate repetitive measurements.

The AD-300 Hardness Tester is available in de following (Shore) versions : A, D, C ,O ,OO and DO

The AD-300 Durometer displays hardness readings on an easy-to-read analog scale. An optional available MEMORY POINTER holds readings until it is manually reset, allowing the operator to concentrate on measurement task.
The AD-300 Hardness Tester will be delivered with operating instructions, carrying case and calibration certificate.


Ergonomic foot offers stabile pressure
Large easy to read dial face
Memory pointer optionally available
Highly accurate and repetitive
Highest available built quality
Conform to DIN ISO 7619-1, ISO 868, ISO 7619-1 and ASTM D 2240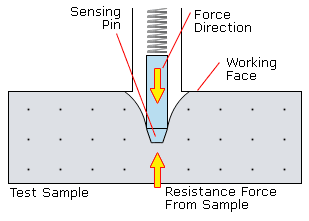 Dial diameter:
57 mm
Total length:
121 mm
Range:
0 - 100
Accuracy:
± 0,5
Resolution:
1
Memory pointer:
Optional
Standards:
DIN ISO 7619-1(A, D)
ISO 868 (A, D)
ISO 7619-1 (A, AO, D)
ASTM D 2240 (A, D, C, B, DO, O)
Weight (net):
184 g
| Model | ASTM D2240 | DIN 53505 | ISO 868 | ISO 7619 |
| --- | --- | --- | --- | --- |
| AD-300-A | | | | |
| AD-300-C | | | | |
| AD-300-D | | | | |
| AD-300-O | | | | |
| AD-300-OO | | | | |
Type
Indentor Shape
Force
A
Flat cone point, 35º Included Angle Soft rubber, plastics, and elastomers, printer's rolls.
822 Gr
B
Sharp cone point, 30º Included Angle Harder elastomers and plastics. Paper and fibrous materials, Use above 93 Duro A.
822 Gr
C
Flat cone point, 35º Included Angle Medium hard elastomers and plastics. Also useful to avoid surface marks.
4536 Gr
D
Sharp cone point, 30º Included Angle Hard rubber and plastics such as thermo plastics, flooring and bowling balls.
4536 Gr
DO
3/32" Spherical Dense granular material, textile windings.
4536 Gr
O
3/32" Spherical Very soft elastomers, textile windings, soft granular materials. Use below 20 Duro A.
822 Gr
OO
3/32" Spherical Light foams, sponge rubber gels, animal tissue.
113 Gr
Product name
Price
Quantity
Product name
Price
Quantity
All mentioned prices are excluding VAT & excluding shipment costs.
Availability : Available , preorder 1-2 weeks , special order, request