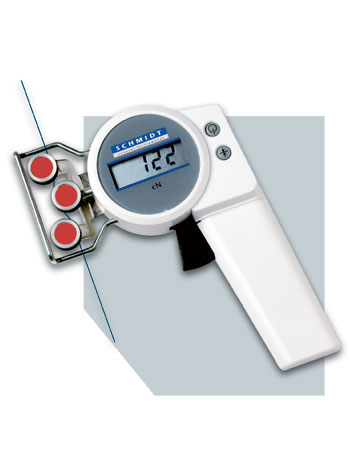 Click on an image for a larger image
ZED Digital Economical tension meter

Economical low tension measuring instrument for checking fibers, yarns and fine wires
Simple handling
Adjustable damping
Filament guide and roller shifting mechanism ensure easy acquisition of the running material
Battery operated
Ball-bearing mounted, V-grooved guide rollers
Certificate of Compliance with the order 2.1 according DIN EN 10204 is included
»Auto-Zero setting« using a push button for measurement in different measuring positions
Easy to read LCD display
Light weight
Everything in operator's view:
- the guide rollers
- the measured material
- the readings
Housing made of high-strength plastic
Optionally available: Inspection Certificate 3.1 according DIN EN 10204 with calibration report
Model
Ranges
Measuring Head Width* mm
SCHMIDT Calibration Material**
ZED-500
1-500
63
PA: 0.20 mm Ø
Other units of measure are available, such as g.
* Width of filament guide
** Suitable for 95% of applications - PA = Polyamide Monofilament

Special calibration using customer supplied samples is recommended, if process material differs significantly from the SCHMIDT calibration material in diameter, rigidity or shape. For this purpose a material sample of about 5 m should be supplied.
ZED Models
This model is recommended for all other applications where miniaturized rollers are not necessary.