The PosiTector PC can record 1,000 measurements in up to 100 groups (batches) for on-screen statistical purposes, for printing to an optional IR printer, or for transferring to a computer using the included USB cable. Readings are time-stamped as they are taken.

USB Mass Storage
The PosiTector PC Powder Checker uses a USB mass storage device class which provides a simple interface to retrieve data in a manner similar to USB flash drives, cameras, or digital audio players.
Any computer can view and download measurements stored in memory (in batches) by navigating a virtual drive labeled POWDER using the included USB cable.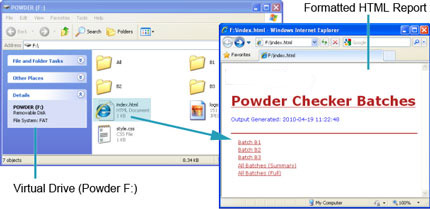 A formatted HTML report is viewed by selecting the "index.html" file found in the root directory. Additionally, delimited text files (.txt) are located in each batch folder for easy import into database, spreadsheet and other compatible applications.
Transferring Live Measurement Results