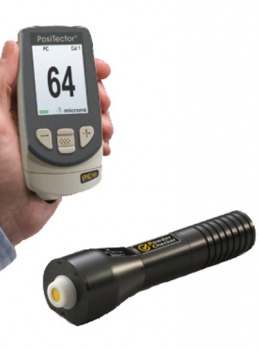 Click on an image for a larger image
PosiTector-PC Powder Checker Non-Contact Coating Thickness Gauge

Range:
20 to 110 microns (0.8 to 4.3 mils)
Checkline Europe is pleased to announce the next generation of non-contact, uncured powder thickness gauge.
The PosiTector PC Powder Checker measures uncured powder coatings using ultrasonic technology to automatically calculate and display a predicted cured thickness.
The PosiTector Powder Checker measures powder thickness on both ferrous and non-ferrous substrates as well as substrates made of materials other then metal.
Simple, Durable and Accurate
Advanced new technology allows measurement on small tubes, odd shapes and moving parts
Continually displays/updates basic statistics including min/max and average
Easy calibration adjustment options improve accuracy on unusual powders or substrates
Built-in IR port for printing stored results to an optional wireless printer
Wireless probe communicates with base unit up to 10m away. (30 feet)
Solvent, acid, oil, water and dust resistant — ideal for powder coating environments
Two year warranty on both base unit and probe
Backlit displays for dim or dark environments
Conforms to ASTM D7378
Thickness results appear on both base unit and probe
USB Mass Storage of 1,000 readings in up to 100 batches
Hand-held, battery operated
USB port for fast and easy connection to a PC and to supply continuous power
Shock-absorbing, protective rubber holster with belt loop and magnetic mount for easy storage
Live measurement results can be sent to a data collector or spray booth controller
No download software required – gage generates formatted reports with measurement summaries and charts
The following is an overview of the probe display during the measurement process (button pressed).

The PosiTector PC can record 1,000 measurements in up to 100 groups (batches) for on-screen statistical purposes, for printing to an optional IR printer, or for transferring to a computer using the included USB cable. Readings are time-stamped as they are taken.

USB Mass Storage
The PosiTector PC Powder Checker uses a USB mass storage device class which provides a simple interface to retrieve data in a manner similar to USB flash drives, cameras, or digital audio players.
Any computer can view and download measurements stored in memory (in batches) by navigating a virtual drive labeled POWDER using the included USB cable.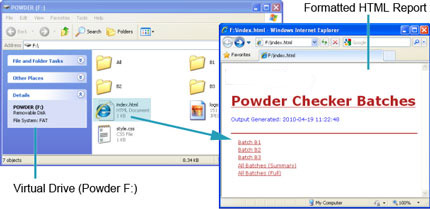 A formatted HTML report is viewed by selecting the "index.html" file found in the root directory. Additionally, delimited text files (.txt) are located in each batch folder for easy import into database, spreadsheet and other compatible applications.
Transferring Live Measurement Results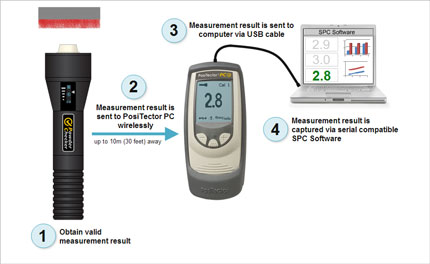 The PosiTector Powder Checker is delivered as a complete kit including:
- Wireless Transducer
- Display Unit
- Protective rubber holster with magnetic mount
- Probe fixture
- 3 AAA batteries (display unit)
- 3 AA batteries (wireless probe)
- User manual
- Instruction video
- Replacement probe screen
- USB cable
- Carabiner & wrist strap
- Foam filled plastic carrying case


Range
20 to 110 microns (0.8 to 4.3 mils)
Resolution
1 µm (0.05 mils)
Accuracy
± 5 µm (± 0.2 mil)
Measurement Time
2 - 5 seconds
Measurement Distance to Powder
18 mm (0.75 inch)
Measurement Area
2 mm (0.08 inch)
Interface
IR and USB interfaces
Dimensions
Display unit:
- 146 x 64 x 31 mm (5.75 x 2.5 x 1.2 inch)
Wireless Transducer:
- 222 x 50 mm (8.75 x 2.0 inch)
Weight
Display unit: 165 g (5.8 oz.)
Wireless Transducer: 272 g (9.6 oz.)
Warranty
2 years on both display unit and wireless transducer
Product name
Price
Quantity