PosiPen Magnetic Pull-Off Thickness Gauge

The PosiPen magnetic pull-off thickness gage measures non-magnetic coatings such as paint, enamel, plating, & hot-dip galvanizing on steel. Ideal for measuring on hard-to-reach surfaces and high temperature materials up to 230° C (450° F).
The PosiPen can be placed with pin-point accuracy on any location of the part to be measured which other Gages are not able to reach.

The PosiPen measures:
on hot surfaces
on small surfaces
in different positions
The PosiPen has a very small unique magnet and therefore can measure on extremely small parts, on peaks and valleys.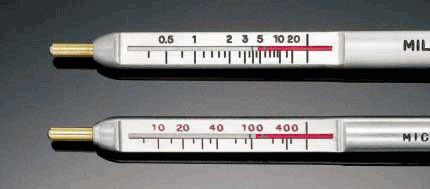 The PosiPen has two scales, mils (inch) and microns (metric)
Two (2) Year Warranty
Made in the USA
| | |
| --- | --- |
| Range | 0.25 to 20 mils / 5 to 500 microns |
| Tolerance | ±10% and 0.1 mil / 2.5 microns |