QB-10000 Elevator Cable Tension Meter
The QB-10000 Tension Meter provides a quick and easy way to accurately measure and display all of the elevator traction cable tensions in a set while the tension on a single cable is being adjusted. This makes it extremely easy to balance the tensions of cables in a set of elevator cables or any other multiple-line array of tension cables, such as tower and stack guy wires, crane rigging sets and platform lifts, etc. The digital display also shows the average tension of the set as well as the total tensile load.
The QB-10000 installs easily, measures cable tension up to 10,000 lbs directly, stores readings and is removed from the cable in seconds. No lookup or reference to correction or conversion charts is required. Writing down measurements for comparison purposes is also not required.
Balancing the tensions on a set of cables takes minutes instead of hours and can be done by a single person, working alone, instead of two or three.
Significant labor and time savings
View and balance multiple lines in minutes
Default of three wire rope sizes (included) with the ability to add 5 more wire ropes
Safety improvement in measurement method
Measures total force quickly and easily
Elevator Inspections
– Quickly balance wire ropes
– Measure total weight of car
Accommodates a wide range of wire rope sizes and styles
Highly visible yellow finish
Easy-to-read backlit display with full text prompts
Easy to use soft-key interface
Uses popular AA batteries and has long life between changes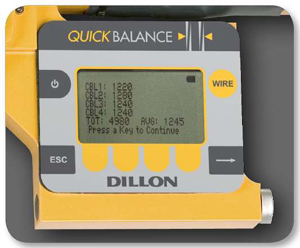 Display showing cable summary screen.
The QC-10000 Quick Balance tension meter is supplied as a complete kit including 10,000lb Capacity Wire Tension Meter, 3 pre loaded calibration: 1/2" 8 x 19, 9/16" 8 x 19, 5/8" 8 x 19, 1/4" to 3/4" Sheave Set code S & Carrying Case.

It makes sense to take advantage of the range for the sheaves. Quick-Balance comes standard with Code "S" Sheaves.
Below you find the other option:
QB-10000 - Code L Sheaves for 3/16" to 1/4" / 4.75 mm - 6,5 mm
QB-10000 - Code P Sheaves for 3/16" to 1/2" / 4.75 mm - 12.7 mm
QB-10000 - Code S Sheaves for 1/4" to 3/4" / 6.5 mm - 19 mm
QB-10000 - Code T Sheaves for 1/2" to 1" / 12.7mm - 25.4 mm

The operator must use the appropriate sheave set for the wire size and calibration stored.

Changing sheave sets takes about two minutes.
Capacity
10,000 Lbs / 45 kN / 4,500 kg
Accuracy
± 3% of full scale.
Calibrated to specific wire rope size and type; ± 5% with same wire rope diameter as calibrated but different wire rope type
Wire Rope Sizes and Types
3/16" to 1" possible
1/2" 8 x 19 included
9/16" 8 x 19 included
5/8" 8 x 19 included
Up to 5 other sizes and wire types may be added
Number of Calibrations
3 factory installed wire rope sizes:
1/2" 8 x 19
9/16" 8 x 19
5/8" 8 x 19
Up to 5 additional wire rope types can be stored independently
Loading error
Cable elongation of only 0.08" (2mm)
Display
Dot graphic, backlit LCD supports full text and 1.0" high digits
Sheave range
Supplied with one set of sheaves (1/4" to 3/4" in range). Other selections may be ordered as necessary
Environmental protection
Suitable for continued outdoor use
Operating Range
-4°F to 140°F (-20°C to 60°C)
Tension Units of Measure
Pound-force, kilogram force, Newtons
Resolution
Configurable for low, medium or high
Product name
Price
Quantity
All mentioned prices are excluding VAT & excluding shipment costs.
Availability : Available , preorder 1-2 weeks , special order, request