TI-25DL-HW Special ultrasonic wall thickness gauge for thick walls

Measurement range
1.00 - 500.00 mm

The new CHECK-LINE TI-25DL-HW ultrasonic wall thickness gauge measures wall thickness with high accuracy and thus enables, for example, an accurate determination of the extent of corrosion in metals. In addition, this gauge measures - from just one side - the thickness of ceramics, glass, most plastics and all other homogeneous materials

The TI-25DL-HW has a built-in data memory for up to 1000 data. The data can be divided into 10 groups. Furthermore, data can be downloaded from a printer or a computer. This gauge comes with a program that is compatible with Windows.

The TI-25DL-HW Wall Thickness Gauge can be used to perform single measurements as well as continuous measurements, using the "A Scan" function. Hereby the probe needs to be moved over the surface and the minimum value measured will be displayed.

The "Differential mode" indicated the difference ("+" or "-") to the set value.
Resolution of 0.001 inch (0.01 mm)
Measurements in inches and mm
Large LCD display with lighting that shows the last measurement
Special model to measure through thick walls, up to 500,00mm
RS-232C serial version to download files with a PC or a printer
Data storage for 1000 files that can be distributed in 10 groups
There are special measuring heads for various applications
A data processing program for Windows is included free of charge

Delivery:
Meter, Probe, 120 ml. Bottle with contact fluid, NIST calibration report, serial output cable, software, batteries and instructions for use - all delivered together in a sturdy plastic case
TICC-M Protective Holder for Ultrasonic Gauges
Constructed from heavy duty Cordura Nylon
Belt loop included
Includes wrist & shoulder straps
More details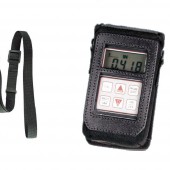 TI-SB Steel Test Block with NIST-Traceable Certificate
Precision Machined and Finished
Includes NIST Report and Test Data
More details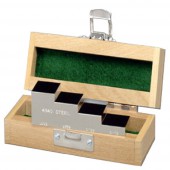 TI-DIN-CAL Calibration Inspection Certificate
Calibration Certificate
DIN 55 350 Part 18, § 4.22, DIN ISO 8402 Part 1
More details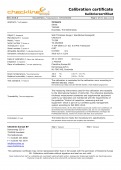 Resolution:
0,01 mm
Velocity range:
6.500-33.000 ft./sec (2000-10.000 m/sec.)
Display:
0,60-150,0 mm
Measurement range:
1,00-500,00mm
Probe:
1/4", 5 MHz Dual Element Transducer, actual wearface is 5/8" (17mm), p/n T-102-3300
Surface material:
PEEK (polymethylethylketone)
Cable:
1/4 ", 5 MHz Doppelelement-Wandler, tatsächliche Verschleißfläche beträgt 5/8" (17 mm), Bestell-Nr. T-102-3300
Serial output:
RS-232C (8, N, 1, user-set baudrate)
Batteries:
2 AA batteries
Weight:
196 gramms
Dimensions:
64 x 114 x 32mm
Warranty:
Gauge: 5 years
Probe: 90 days