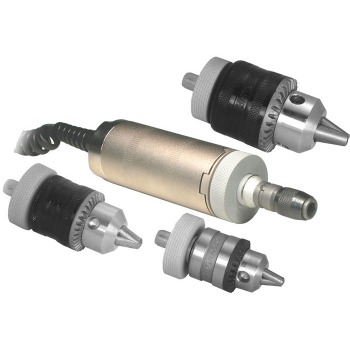 Click on an image for a larger image
R51 Universal Torque Sensors measures bi-directional torque

This universal torque sensors series represents an ideal solution for bi-directional torque measurement applications that require different test sizes.
The Series R51 features excellent overload protection and is available in capacities from 7 Ncm to 1150 Ncm (10 ozin to 100 lbin).
The Series R51 universal torque sensors is compatible with the 7i, 5i and 3i torque gauges (available separately) and thanks to its unique Plug & Test technology, the sensors can be exchanged quickly and easily.
Three interchangeable chucks and a bit holder can also be ordered separately.
Compatible with the Series 7i, 5i and 3i digital indicators
Unique Plug & TestTM connector holds all calibration and configuration data
Outstanding overload protection
Interchangeable chucks (order separately)
NIST-traceable certificate of calibration included
Capacities from 7 to 1150 Ncm
3 years warranty
Model
Capacity with Model 7i / 5i
Resolution with Model 7i / 5i
Capacity with Model 3i
Resolution with Model 3i
MR51-10Z
10 ozFin
700 gFcm
7 kgFmm
70 Nmm
7 Ncm
0.005
0.5
0.005
0.05
0.005
10 ozFin
7 kgFmm
7 Ncm
0.01
0.005
0.005
MR51-20Z
20 ozFin
1400gFcm
14kgFmm
140Nmm
14Ncm
0.01
1
0.01
0.1
0.01
20 ozFin
14 kgFmm
14 Ncm
0.02
0.01
0.01
MR51-50Z
50 ozFin
3600gFcm
36kgFmm
350Nmm
35Ncm
0.02
2
0.02
0.2
0.02
50 ozFin
36 kgFmm
35 Ncm
0.05
0.05
0.05
MR51-12
12lbFin
1lbFft
140kgFmm
135Ncm
1.35Nm
0.005
0.0005
0.1
0.1
0.001
12 lbFin
140 kgFmm
135 Ncm
0.01
0.1
0.1
MR51-50
50lbFin
4lbFft
580kgFmm
570Ncm
5.7Nm
0.02
0.002
0.5
0.5
0.005
50 lbFin
580 kgFmm
570 Ncm
0.05
0.5
0.5
MR51-100
100lbFin
8lbFft
1150kgFmm
1150Ncm
0.05
0.005
0.5
0.5
100 lbFin
1150 kgFmm
1150 Ncm
0.1
1

1
| | |
| --- | --- |
| Accuracy: | ± 0.20% of full scale + indicator |
| Weight: | From 0.6 kg |
| Warranty: | 3 years |
Product name
Price
Quantity
Product name
Price
Quantity
All mentioned prices are excluding VAT & excluding shipment costs.
Availability : Available , preorder 1-2 weeks , special order, request