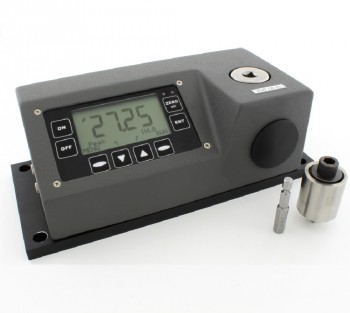 Click on an image for a larger image
TT-3000 Torque Tester for testing click, dial and digital wrenches

The TT-3000 Torque Tester is specially designed to meet the needs of today's production facilities. These strong and versatile systems meet most test requirements at an excellent cost advantage. These Torque Tester systems are perfectly suited for easy testing of click, dial and digital keys and most electronic devices including electric screwdrivers, pulse and DC electronics.
The data memory allows the storage of 999 data points for later viewing or sending them via the standard RS232 port to a local printer or PC. The unique lock switch facility allows tamper-proof operation. High and low limits are easy to set and the built-in LED visually indicates when the torques have reached the limit point. The systems include dedicated internal transducers in vertical or horizontal configurations and rundown fixtures for device testing of power/pulse tools.

*Please note that a screw simulator is required for the use of electrical, hydraulic and pneumatic tools. This torque tester is not suitable for testing impact wrenches or for use with force multipliers.
Bidirectional accuracy of ±0.5% of indicated reading
Eight selectable engineering units: Oz.in., Lb.in., Lb.ft., Nm, cNm, KgfCm, gfCm, Kgfm
3 modes of operation: Track, Peak, and 1st Peak
NiMH rechargeable batteries provide 8-10 hours continuous use
RS-232 Output
Selectable power tool filtering speeds: 125Hz, 250Hz, 500Hz, 1000Hz, 1500Hz and 2000Hz
For testing click, dial, and digital wrenches, plus most power tools including impulse and DC electric
Includes NIST - Traceable Calibration Certificate with Data
Joint Simulator supplied with all 1/4", & 3/8" drives, optionally available on 1/2", 3/4" & 1" drives.
Torque ranges
Model
Range
Drive
Size
Run-Down
Fixture
TT-30050
0.03 - 0.35 N-m
1/4"
Included
TT-3001
0.07 - 0.7 N-m
1/4"
Included
TT-3011
0.1 - 1.2 N-m
1/4"
Included
TT-3002
0.14 - 1.4 N-m
1/4"
Included
TT-3012
0.3 - 2.8 N-m
1/4"
Included
TT-3005
0.56 - 5.6 N-m
1/4"
Included
TT-3010
1 - 11 N-m
1/4"
Included
TT-3015
1.6 - 16 N-m
1/4"
Included
TT-3025
2.8 - 28 N-m
3/8"
Included
TT-3050
5.6 - 56 N-m
3/8"
Included
TT-3075
8.4 - 84 N-m
3/8"
Included
TT-30100
11.2 - 112 N-m
3/8"
Included
TT-3100
13.5 - 135 N-m
1/2"
Optional
TT-3150
20 - 203 N-m
1/2"
Optional
TT-3250
33 - 338 N-m
1/2"
Optional
TT-3750
101.0 - 1016 N-m
3/4"
Optional
Don't see the range you need?
Custom ranges are available, please call us to discuss your application.
ER - Extended Range Option increases certified range to 5-100% (instead of 10-100%)
| | |
| --- | --- |
| Calibrated Range | 10-100% Full Scale, bi-directional (Standard) |
| Extended Range | 5-100% Full Scale, bi-directional (ER Option) |
| Accuracy | ±0.5% of indicated (within calibrated range) |
| Resolution | 4 Active Digits |
| Overload Protection | 200% Full Scale bi-directional |
| Operating Modes | Track, Peak, 1st Peak |
| Filtering | Selectable; 125Hz, 250Hz, 500Hz, 1000Hz, 1500Hz and 2000Hz |
| Memory | data storage of up to 999 readings |
| Data Output | RS-232 |
| Display | 62 x 62mm backlit LCD |
| Alarm Limits | Panel Mounted LED for Visual Alarm Limits |
| Power | NiMH rechargeable batteries provide 8-10 hours continuous use |
| Weight | 6-9 lbs, depends on number of transducer |
| Operating Temp | 32 - 120 °F (0-50 °C) |
| Warranty | 1 Year |
| Calibration Certificate | Includes NIST Traceable calibration certificate with data |
| Standard Accesories | Joint Simulator for 1/4" & 3/8" drives, AC adapter/Charger |
| Optional Accessories | Joint Simulators for 1/2", 3/4" & 1" Transducers, Extended Ranger "ER" Option |
Product name
Price
Quantity
All mentioned prices are excluding VAT & excluding shipment costs.
Availability : Available , preorder 1-2 weeks , special order, request