TE-24 Heavy-Duty Tension Sensor

6 Tension Ranges
0-1000 g up to 0-50.0 Kg
Heavy-duty, hardened steel rollers makes this model especially suitable for tire cord, wires and similar filaments to high-impact loading.
Built-in signal conditioning with ZERO and SPAN pots provide a high-level, analog output to minimize the chance for signal interference.
Precision strain gauge sensing for highest accuracy and repeatability
30 mm hardened steel rollers are rated for linear speeds up to 2400 m/min
0-1 V DC output, proportional to tension (0-10 V DC optional)
Optional 10 ft. cable, TE-CABLE-CN is recommended. Longer lengths are available
Surface mount electronics provide long-term reliability
Frequency response of 100 Hz
Custom configurations can be supplied to meet nearly any application requirement
Sensor can be easily mounted using four holes in front panel or using a "collar" around the cylindrical sensor body
Model
Ranges
TE-1K-24A
0–1000 g
TE-2K-24A*
0–2000 g
TE-5K-24C
0–5.00 Kg
TE-10K-24C
0–10.00 Kg
TE-20K-24D
0–20.00 Kg
TE-50K-24E
0–50.0 Kg
*Can be supplied with a "B" configuration with low material deflection for wire applications.
TD-1-TE Tension Indicator
User-set High & Low Alarm Limits with relays
TD-1 provides regulated +5 V DC for SR sensors
4-20 mA and 0-10 VDC analog output for recording and control purpose
More details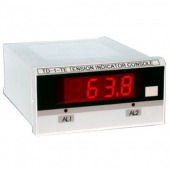 Accuracy
± 1.5% FS or better
Sensor Excitation
12 - 18 VDC, 21mA
Middle Roller Deflection
0.5 mm (maximum)
Sensor Output
0-1 V DC (standard)
0-10 V DC (optional)
proportional to tension
Overload Protection
Overload Protection
Housing Material
Aluminum
Roller Diameter (Root)
29.5 mm
Maximum Linear Speed
2400 m/min
5000 m/min
40 to 105° F (5-40° C)
Frequency Response
100 Hz