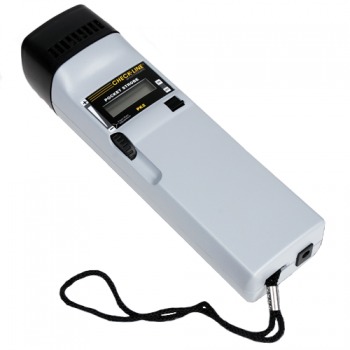 Click on an image for a larger image
PK2X Stroboscope - Portable Pocket-Size Strobe

PK2X
30 - 12.500 RPM/FPM
and higher using harmonics
The PK2X hand-held Pocket Strobe® is convenient and accurate, designed to perform non-contact RPM measurements on rotating or reciprocating parts or components as well as a proven means for inspection of moving parts/machinery by "freezing"or "slowing down" the movement. This stroboscopic effect is accomplished by matching the flash rate of the stroboscope with the repetitive rate (RPM) of motion of the target. Furthermore, a slow motion effect is accomplished with a slight mismatch of the relative speeds.

The PK2X stroboscope is powered by a rechargeable internal battery or directly from an AC power source allowing for continuous use if necessary, or continued use when the battery power level is low. The small size and lightweight design make this stroboscope perfect for use by field technicians or maintenance personnel.
The PK2X offers significant improvements from the previous generation model PK2 including the following (refer to table below):
• 50% improvement in flash brightness
• 100% improvement in battery run-time
• Doubles the choice of power by permitting operation during re-charge or continuous operation when connected to AC-power

The PK2X continues to offer the highest reliability, refined by over 10-years of continuous design & manufacturing improvements since the introduction of the original Pocket Strobe Model PK1 was introduced in 1996.
The PK2X stroboscope requires only one hand to operate, yet delivers performance comparable to much larger and heavier "pistol-grip" type models. It is ideal for laboratory, industrial, R&D and academic environments. Its small size and excellent performance provide superior convenience and value.
Battery run time of 2 hours on full charge
Operates when being recharged or run continuously via AC-power
Internal rechargeable Lithium Ion battery uses latest "smart-charge" technology for longest possible life and 2-Hour run-time on a single charge
Includes Int'l Traceable Calibration Certificate
Portable, lightweight and rugged construction
Accepts input from sensor for external flash triggering
Resolution of ±1 RPM over the entire range with highly accurate speed control and drift-free operation
Bright XENON flash intensity (over 1200 Lux) with life of 200 million flashes
Provided with a threaded insert on underside of strobe for mounting to articulating arm or other fixture
AC-Adapter/Charger can be used anywhere worldwide
(100 – 240V AC) with plug adapters provided for N. America, Europe, UK & Australia AC outlets
CE Certified
Includes Stroboscope, Universal AC-Adapter/Charger (with plug adapters provided for North America, Europe, UK & AU), external input/output jack, Traceable Calibration Certificate and instruction manual, all supplied in a hard shell carrying case.

Flash Range
30 - 12,500 FPM
Flash Brightness
1200 Lux (8"/20cm distance @ 4500 fpm)
Accuracy
± 0.01% over entire range + 1 LSD
± 0.04 Hz
Resolution
± 1 FPM over entire range
Display
5-digit LCD
Display Update
0.5 seconds
Flash Energy
170 mJ
Flash Duration
< 9 µs
Flash Tube Longevity
200 million flashes (at 6,000 fpm)
External Trigger
0-5 volt, DTL/TTL compatible 1/8" jack
Operating Time
Battery, 2 hours
AC-Power, continuous
Battery Type
Lithium Ion (Li-Ion)
Battery Charger
AC Power Required - 100-240 VAC, 50/60 Hz
DC-Output, 9 VDC @ 2000 mA max
Charging Time, 4-5 hours
Overcharge Protection
Yes
CE Certification
0.9 lbs (415 grams) including battery
Weight
0.9 lbs (415 grams) including battery
Housing Material
High Impact ABS Plastic
Reflector Material
Aluminum
Tripod Mount
1/4-20, female insert
Operating Temp.
32 to 104° F (0 to 40° C)
Dimensions:
240 x 65 x 40mm (LxWxH)
Warranty
1 year
Product name
Price
Quantity
All mentioned prices are excluding VAT & excluding shipment costs.
Availability : Available , preorder 1-2 weeks , special order, request