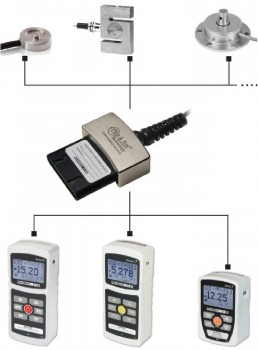 Click on an image for a larger image
PTA Plug & Test Load Cell Adapter

The PTA Adapter user-configurable adapter and software connects common strain gage-based load cells, force sensors, and torque sensors to the Models 3i, 5i and 7i indicators.
Sensor capacity and resolutions may be programmed via an included software utility, which includes a library of common force capacities from 0.12 to 750,000 lbF (0.5 N to 4,000 kN), and torque capacities from 10 ozFin to 40,000 lbFft (7 Ncm to 57,000 Nm). An identification number may be programmed, which is displayed upon indicator power-up or the indicator's Information screen.
Through Plug & Test technology, all configuration and calibration information is saved within the adapter. This flexibility allows for interchangeability between multiple sensors with both the 3i, 5i and 7i indicators.
Sensor Requirements
Sensor type: Full bridge
Sensor resistance: 300 - 1000 ohms
Sensor sensitivity: 1 - 3 mV/V full scale
Indicator Requirements
3i, 5i or 7i indicator with firmware version 1.0.9 or later*
* The PTA adapter cannot be configured using older indicator versions.
The PTA adapter
can be used
with older indicator versions, however, the adapter
cannot be calibrated
for single-direction load cells, such as load button and thru hole type load cells.
Screw terminal block allows for easy connection of sensor wires
Software configuration utility is included, for easy programming of sensor capacity, resolution, and identification number
Supplied with a strain relief, user-writeable identification label, and Resource CD with software
Compatible with strain gage-based load cells, force sensors, and torque sensors
Program the adapter via USB or RS-232 through the indicator
Series 3I Advanced Force/Torque Indicator
Interchangeable force and torque sensors through Plug & Test™technology
High-speed 2,000 Hz sampling rate
More details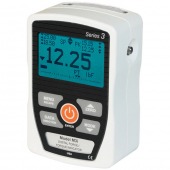 Series 5I Advanced Digital Force/Torque Indicator
Interchangeable force and torque sensors through Plug & Test technology
External trigger mode - for switch contact testing or remotely stopping display update
More details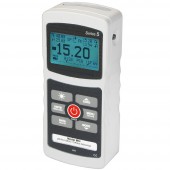 Series 7I Advanced Force/Torque Indicator
Continous data capture of up to 5,000 data points, at up to 14,000 Hz, downloadable to a PC
Interchangeable force and torque sensors through Plug & TestTM technology (sensors are sold separately)
More details