HPSAO Shore Durometer

Durometer according ISO 7619-1 for determining the Shore surface hardness of foams, steering wheels and inner linings of motor vehicles with hardness<20 Shore A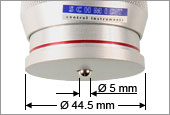 The spring loaded outer ring assures a constant measuring pressure and eliminates false readings due to difference between operators
Working face 44.5 mm Ø
Flat bottom prevent tilting and improves the measuring accuracy
Adjustable Min./Max. indicator marks to highlight working range of the hardness tester
High repeatability
For measuring the hardness, the spring-loaded outer ring of the housing is pressed downwards until the edge of the ring meets the colored marking on the housing. This ensures a constant pressure and prevents measuring errors.

General:
The principle used to measure shore hardness is based on measuring the resistance force of the penetration of a pin into the test material under a known spring load. The amount of penetration is converted to hardness reading on a scale with 100 shore units.
As the depth of indentation is max. 2.5 mm the test material has to have a minimum thickness of 6 mm. If thickness is less stack some samples til you reach the required thickness.


PTS-HP Durometer Test Stand
Mechancal Lever-operated Test Stand for use when precise positioning is required on the test sample (i.e. o-ring, etc.)
Operation is as simple as rotating lever until shell on durometer reaches red line.
Constant-pressure outer shell system guarantees consistent test force
3 year warranty
More details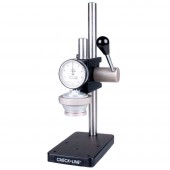 Cic-Duro Durometer Calibration
Exclusively NIST-certified testing equipment
Possibility to adjust and repair
More details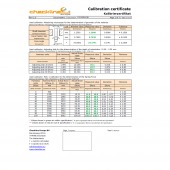 The HP series durometer is supplied as a complete kit with:
Durometer
User Manual
Foam-fitted carrying case.
A calibration certificate is optional.
| | |
| --- | --- |
| Indentor | Ball, 5 mm diameter (R=2.5mm) |
| Depth of indentation | 0 - 2.5 mm |
| Typical applications | Foams, steering wheels and inner linings of motor vehicles |
| Accuracy | ± 1 hardness unit |
| Application range | < 20 Shore A |
| Standard | ISO 7619-1 |
| Measuring spring force | 0.55 - 8.065 N |
| Test pressure* | Approx. 12.5 N |
| Scale diameter | 54 mm |
| Display range | 0 - 100 Shore AO units |
| Working face | 44.5 mm Ø = 15.5 cm² |
| Base plate | 44.5 mm Ø |
| Weight, net (gross) | Approx. 300 g (500 g) |
| Dimensions | 50 x 60 x 110 mm (LxWxH) |
* Spring load of outer ring to create constant pressure
Product name
Price
Quantity
All mentioned prices are excluding VAT & excluding shipment costs.
Availability : Available , preorder 1-2 weeks , special order, request