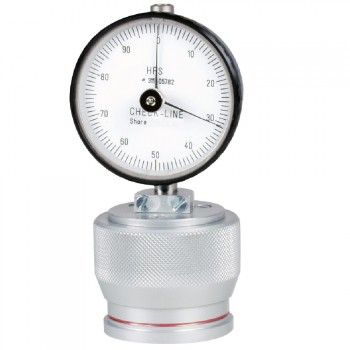 Click on an image for a larger image
HP Series Shore Durometer

Available Scales: A, B, C, D, DO, O

The HPS Durometers are designed to measure the hardness or firmness of a wide variety of parts and test samples, e.g. rubber parts, plastic, elastic materials, textiles, printing rolls etc.
This unit is designed in accordance with ASTM and DIN quality standards which specifies the bottom contact area (working diameter), sensing pin configuration and internal spring forces. Additionally, the displacement of the sensing pin, relative to the dial indicator, is specified by these standards.
The HPS gauges are provided with an analog dial indicator calibrated for a range of 0-100 Shore units along with Min/Max markers which are available to provide a visual indication of the acceptable hardness range.
All Checkline Durometers feature a unique spring-operator test pressure shell, which helps insure that similar test pressures are used for each measurement. This system significantly enhances the measurement repeatability, especially between different operators.
Oversized flat bottom surface makes position of working face (area of contact as specified in ASTM/DIN Standards) convenient and consistent which limits variability between operators.
Conforms to ASTM D-2240.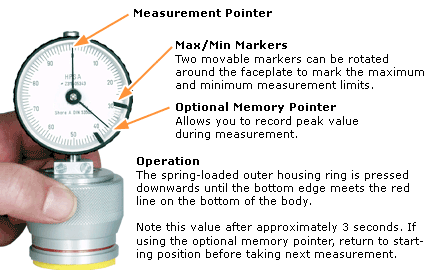 Measuring Suggestions
| | |
| --- | --- |
| 1. | Whenever possible, a Durometer measurement should be taken at least 12 mm (approx. 0.500") in from the edge of a sample, as the hardness characteristic of any sample tends to change at the edges. |
| 2. | Whenever possible, the thickness of a sample should exceed 6 mm (approx. 0.250"). If the sample is thinner then this, then the sample can be backed with a sample of the same material to increase the thickness. |
| 3. | Test Coupons or test blocks (rubber or plastic) should not be used for calibration verification. As all samples are subject to characteristic changes over time along with temperature and lighting conditions, the rated Shore value when supplied as new can and will vary with age. Proper calibration verification requires independent confirmation of the internal spring forces along with the verification of the pin displacement vs. the indicated value on the scale. |
RX-TBK-A Type A Durometer Test Block Kit
Enables the user to perform a quick check for proper durometer operation
More details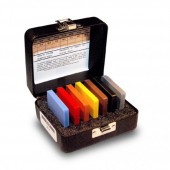 PTS-HP Durometer Test Stand
Mechancal Lever-operated Test Stand for use when precise positioning is required on the test sample (i.e. o-ring, etc.)
Operation is as simple as rotating lever until shell on durometer reaches red line.
Constant-pressure outer shell system guarantees consistent test force
3 year warranty
More details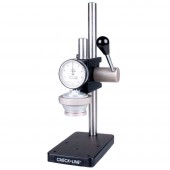 Cic-Duro Durometer Calibration
Exclusively NIST-certified testing equipment
Possibility to adjust and repair
More details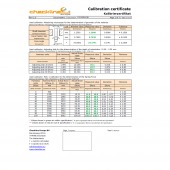 The HP series durometer is supplied as a complete kit with:
Durometer
User Manual
Foam-fitted carrying case.
A calibration certificate is optional.
| Model | ASTM D2240 | DIN 53505 | ISO 868 | ISO 7619 |
| --- | --- | --- | --- | --- |
| HP Series-A | | | | |
| HP Series-B | | | | |
| HP Series-C | | | | |
| HP Series-D | | | | |
| HP Series-DO | | | | |
| HP Series-O | | | | |
Type
Indentor Shape
Force
A
Flat cone point, 35º Included Angle
Soft rubber, plastics, and elastomers, printer's rolls.
822 Gr
D
Sharp cone point, 30º Included Angle
Hard rubber and plastics such as thermo plastics, flooring and bowling balls.
4536 Gr
O
3/32" Spherical
Very soft elastomers, textile windings, soft granular materials. Use below 20 Duro A.
822 Gr
| | |
| --- | --- |
| | HPS Shore A |
| Typical applications: | Hardness of elastomers and rubber etc. |
| Indenter: | Cone 35°, 1.3 mm Ø |
| Depth of indentation: | 0 - 2.5 mm |
| Test pressure: | approx. 12.5 N |
| Measuring spring force: | 0.55 - 8.065 N |
| | HPS Shore D |
| Typical applications: | Hardness of plastic parts and hard rubber |
| Indenter: | Cone 30° |
| Depth of indentation: | 0 - 2.5 mm |
| Test pressure: | approx. 50 N |
| Measuring spring force: | 0.55 - 44.5 N |
| | HPS Shore O |
| Typical applications: | Hardness of elastic materials, printing rolls, medium strength woven textiles made of nylon, orlan, perlon or rayon, etc. |
| Indenter: | Cone 3/32" |
| Depth of indentation: | 0 - 2.5 mm |
| Test pressure | approx. 12.5 N |
| Measuring spring force: | 0.55 - 8.065 N |
| | General |
| Accuracy: | +/- 1 shore unit |
| Worldwide Standards: | According DIN 53505, ISO 7619, ISO 868, ASTM D 2240 |
| Display range: | 0 - 100 Scale |
| Scale diameter: | 56 mm |
| Working face: | 16 mm Ø = 2 cm² |
| Weight, net (gross): | approx. 300 g (500 g) |
| Dimensions: | 50 x 50 x 110 mm (L x W x H) |
| Warranty: | 1 year |
Product name
Price
Quantity
All mentioned prices are excluding VAT & excluding shipment costs.
Availability : Available , preorder 1-2 weeks , special order, request