With a single reading the PosiTector 6000 FNDS probe measures the individual thicknesses of both the zinc and the paint layers in a duplex coating system (with a minimum zinc layer thickness of 13µm).
The PosiTector 6000 with FNDS probe assesses the thickness of each layer thicknesses of zinc and paint/powder in a duplex coating system.
Different methods are used for the application of Zinc layers as follows:
Hot-dip galvanizing (most common for duplex coatings)
Electro-galvanizing
Zinc spray metallizing (thermal spray zinc)
The Duplex Coating Systems is based on the combination of two protection methods: of the protection of galvanization with the an additional corrosion protection system, such as polymeric powder coating or paint. The idea behind is that
The PosiTector 6000 FNDS (in duplex mode) functions with Magnetic (Ferrous) and Eddy current (Non-Ferrous) principles at the same time in order to measure and indicate the thickness value of each individual paint and zinc layer.
The magnetic principle is deployed for the assessment of the combined zinc/paint thickness over the ferrous substrate. As to the Eddy current principle, it measures the paint thickness on non-ferrous zinc coating. The zinc thickness is calculated by deducing the paint thickness value from the combined zinc/paint thickness value.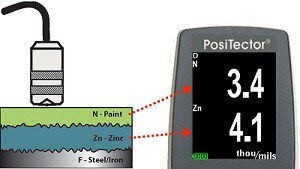 The PosiTector 6000 FNDS can also be used without the Duplex Mode and as a PosiTector 6000 FNS probe for non-magnetic coatings on ferrous metals (steel) and non-conductive coatings on non-ferrous metals.
The 6000 FNDS probe can be used with all PosiTector Advanced and Standard models with a colour display.