PaintCheck Paint Thickness Gauge

PaintCheck provides fast, non-destructive coating thickness measurements on steel and non-ferrous metals. It is intended for use by car dealerships, auto body shops , insurance adjusters and similar users who only need a simple, one-handed basic gauge. The resolution is limited to 0.5 mils (5 µm) and should not be confused with our other "precision" gauges as this is adequate for basic thickness "checks".
Simply place the gauge on the surface to be tested. An accurate thickness reading appears almost instantaneously on the large, easy-to-read display—without scratching or damaging the surface in any way.
PaintCheck automatically selects the optimum measuring method (magnetic induction or eddy-current) to provide an accurate reading even for the thinnest coatings, on steel as well as on aluminum and other non-ferrous metals. No calibration is required.
In addition, PaintCheck provides valuable information about the coating structure, such as paint top coats or body fillers. For example, if the measured thickness value is significantly greater than the expected paint thickness, this would indicate the use of filler material or repainting.
Speed, accuracy, versatility and ease of use make PaintCheck a valuable tool for a wide range of paint inspection tasks.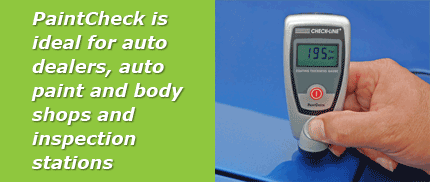 Simple, one-key operation
No calibration required
Large measuring range: 0 – 80 mils (0 – 2000 µm)
Measures on steel, aluminum and non-ferrous metals
User-selectable units: mils or µm
Minimum Radius for Convex Surfaces
Fe - 1.5" (37 mm)
NFe- 3.0" (75mm)
Minimum Radius for Concave Surfaces
4" (100mm)
Minimum Headroom
5" (125mm)
Minimum Sample Diameter
1.6" (40mm)
Minimum Substrate Thickness - F
30 mils (0.75mm)
Minimum Substrate Thickness - NFe
10 mils (0.25mm)
Range
Fe: 0 – 80.00 mils (0 – 2000 µm)
NFe: 0 – 80.00 mils (0 – 2000 µm)
Accuracy
±0.5 mils plus 5% of reading
±5 µm plus 5% of reading
Display
4-digit alphanumeric, 0.4" (10mm) height
Minimum Measuring Area
1.6" x 1.6" (40mm x 40mm)
Minimum Substrate Thickness
Fe: 30 mils (0.75mm)
NFe: 10 mils (0.25mm)
Calibration
Factory calibration
Operating Temp.
32 °F to 122 °F (0 °C to 50 °C )
Surface Temp.
5 °F to 140 °F (–15 °C to 60 °C )
Battery Type
2 AAA 1.5V
Dimensions
4.3" x 2" x 1" (110 x 50 x 25mm)
Weight
3.2 oz (90 g)
Protection Class
IP 52 (proof against dust and dripping water)
Standards
DIN, ISO, ASTM, BS
Warranty
1 year
PaintCheck gauges are supplied as a complete kit, with gauge, plastic test shim, steel zero test plate, aluminum zero test plate, 2x AAA batteries, manual and soft carrying pouch.

Cic-Coating Calibration Coating Thickness Gauge
Easy planning of calibration
Short turnaround
Possibility to adjust and repair
In accordance with DIN EN ISO 2178, 2360, 2808 and meets or exceeds the indicated accuracy.
More details