CF-4H-950F Coupling fluid for high temperatures

The c CF-4H-950F oupling fluid is a high temperature coupling fluid for ultrasonic wall thickness gauges. It enables accurate measurements on surfaces with an recommended temperature range from 316ºC to 404 ºC.
It provides coupling for high-temperature thickness gauging and will maintain acoustic coupling at high temperatures beyond 15 seconds to give ample time to obtain thickness readings. In most cases, the signal strength increases with time to the point of the couplant's thermal decomposition.
Characteristics
Extended open time window for longer inspections or to optimize thickness readings at high temperatures
Excellent corrosion inhibition
Non-toxic, non-irritating formula
Supplied in 120 ml tube
Excellent corrosion inhibition
Very slow drying; allows for long-term coupling without reapplication
Temperature range from 316ºC to 404 ºC
CF-4H High Temperature Coupling Fluid
Temperature Range: -18° to 316° C
More details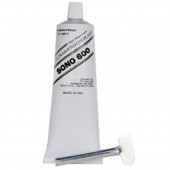 CF-AN Coupling Fluid
Used to create an ultrasonic coupling between the probe and material to be measured
More details